When you first read the title of this post, I'll bet you were thinking I was going to talk about the classic short story, The Necklace by Guy de Maupassant. So I will.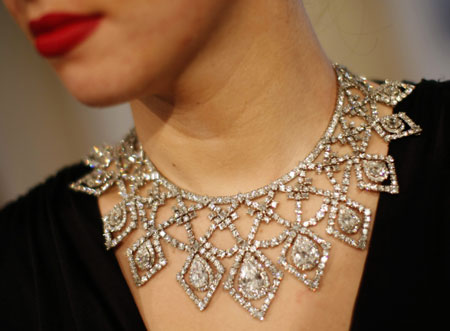 In Mauppasant's tale, middle class but beautiful Mathilde Loisel has the opportunity to go to a fancy ball. She and her husband spend too much money on a dress for the affair, and borrow a diamond necklace from a friend. When Mathilde loses the necklace, she buys a replacement and returns the diamond necklace to her friend without telling her the truth. Then, she and her husband spend ten years dedicated to paying off their debt, losing their home, their servants, and much of their original lifestyle in the process. When she encounters the friend (after ten years of abject poverty), she finally discloses the truth about the necklace. Her friend, aghast, tells her that the original necklace was a fake. Needless to say, I have often used this story in my classroom to demonstrate the use of irony in literature.
My tale for today, however, involves a different kind of necklace.
This necklace was in the bag of ethnic and costume jewelry that came from my mother-in-law's estate. I thought it was very interesting and possibly cool to wear; my sister-in-law thought it was hideous. I love the mixed media of the beads, wood, and abalone, and it kind of clinks like a wind chime when it moves, but it requires a significant "shelf" upon which to rest. I wore it once with a black shell and liked the effect, but then put it away. The other day I was going to wear a plain black turtleneck to school and thought that this was the perfect opportunity to check out my perceptions of its cool factor.
I'm glad to report that my little fashionista students, who rarely keep their negative or positive opinions to themselves, loved the necklace and I got comments all day about it. It's not something that I can wear every day, or even every week, but it's still fun.
Did my self-esteem need the stamp of approval from eighth graders? Not really, but when a teacher places a large piece of jewelry that jingles on her chest, it had better be good, because it's going to attract a lot of attention. My mother-in-law taught kindergarteners, who probably looked at jewelry placement somewhat differently than my 14-year-olds.
Now I'm looking for some adult feedback. I need to convert this Joann piece into a wearable work of art. I can see it worn with something peasanty and creative when I want to tell that story. Unfortunately it hangs down to that lovely part of my torso just above my waist — not the part of my body to which I want large orange beads to draw attention! I do think it has possibilities, though, and there's always that connection with my beloved Joann that happens whenever I wear her jewelry.
Any ideas that will dilute the orange? I'd welcome some crafty ideas . . .